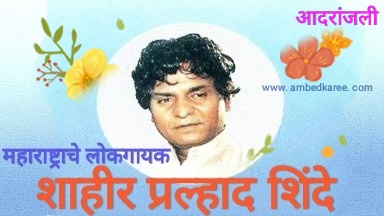 S

warsurya -Hon.Prahlad Bhagvanrao Shinde
 Great Pralhad Shinde  was born on 1933  in Pimpalgaon area of Ahamadnagar to Bhagvanrao & Sonabai Shinde. He was the youngest child & had two elder brothers. He was introduced to music when he started accompanying his parents to do kirtan & street singing to make the ends meet due to abject poverty. During his young age, he worked as a Tabla player & chorus in Ismail Azad's Troupe & even got a chance to sing a small part in song Haider ki Talvar. HMV gave a break to him when they release his first album which had four devotional songs. He went on to sing many Devotional and Folk songs which made him famous in Maharashtra. He also sang few Qawwalis. He got married to Rukminibai. Anand ,Milind,Dinkar is famous singer and Grand son Adarsh Shinde also great star of Marathi film and Musical Industustries.
His selected Filmography is as below.
Ashiqana Aur Nashibat Same Qawwalli- 1975 Ismail Azad Qawwal ki char Yaadgaar Qawwaliyan -1990Pratham Namu Gautama-1991Tyagin Bheemraao-1997Bheem Jwalamukhi- 1997Tristan ka Tika Bheem Geet- 2000And more than thousands of  song he presented in staongly and sweetly .
In marathi book "SWARSURYA"Auther Ravichandra Hadsankar writened detail  Biography .
— By Pramod Ramachandra